Magnetic Arabic letters and Numbers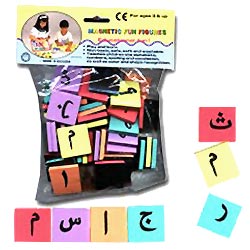 Magnetic Arabic Letters and Numbers 
Play and learn with these magnetic alphabet letters covered with soft foam material. These colourful magnetic alphabets and numbers help children learn to spell and practice simple math. Numbers and letters are printed on soft, durable and washable foam squares. This toy will provide your child with hours of enjoyment and learning! Includes all the Arabic alphabet letters and Arabic numbers 1-10 as well as equation symbols (+,=). Attaches well to any metal surface such as the refrigerator.
Letter/Number dimensions: (1" x 1")
Ages: 4 – 8 Years
If you like the article consider sharing it. Your single share means a lots to us.Republishing the article is permitted on the condition of proper attributes and link.
Do you want to get a Weekly magazine? You can subscribe to get a weekly email with our recent articles.
Follow us in our Social media Profiles: (facebook @islamhashtag), (instagram @islamhashtag ) and (pinterest @islamhashtag )