Ramadan Countdown Calender
Ramadan Countdown Calender- Countdown to Eid
Ramadan is a good time to teach the kids about Islam ,Ramadan and Islamic Morale . We have created this Eid Countdown Calender which you can print and place in the Kids Room like a Banner even as a Ramadan Decoration . Each Card has some Task like Do Miswak , Read this Dhikr , etc and each task is backed up with an authentic Hadeeth .So In 30 Days,your child also learn 30 Hadeeth.
This is not only a Ramadan  activity.Your Child will learn the Islamic Morale and retain it all his life . Give yourself the gift of an effective Parenting this Ramadan and Enjoy the Fun it brings to your Life .
Total Pages :63
Price : $3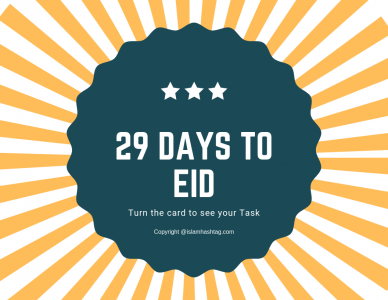 If you like the article consider sharing it. Your single share means a lots to us.Republishing the article is permitted on the condition of proper attributes and link.
Do you want to get a Weekly magazine? You can subscribe to get a weekly email with our recent articles.
Follow us in our Social media Profiles: (facebook @islamhashtag), (instagram @islamhashtag ) and (pinterest @islamhashtag )