World's Biggest Quran found in Vadodara-Gujarat
The Juma Masjid in Vadodara (Gujarat) houses a unique 250-year-old Quran. About six and a half feet long, and four and a half feet wide, members of the mosque trust claim it to be world's largest/Biggest.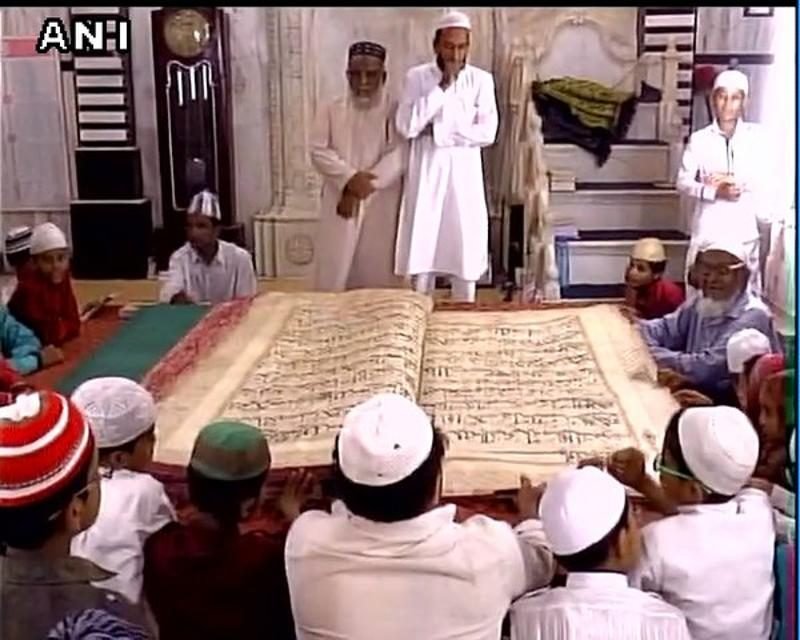 Dimension of New found Biggest Quran :
The length and breadth of this Quran is 75 inch and 41 inch respectively. The ink used in this Quran is made up of Kohl and peacock's feather. The border of this Quran is elaborated with a gold coating.
The Documented World's Biggest Quran
It is worthy to be noted that a Quran, kept at Russian city of Kazan's Qolsharif mosque has been awarded a Guinness World Records certificate for being the world's largest.
Printed on Scotland paper, this Quran edition is 150×200 cm, has 632 pages and weighs 800 kg.
The Quran weighs a stunning 800 kilos (1763 pounds ) of which 120 kilos (264 pounds) are of the frame cover alone. The Quran is 1.5 m by 2 m, and 3 m by 2 m if unfolded. The cover is tinseled with gold and silver and embellished with malachite, jasper and phianites.
News Source :(ANI)