Different types of Hijab Fabric
Different types of Hijab Fabrics: Hijab is the crown of a Muslimah. Although People associate Hijab with Oppression, We as Muslim Woman associate Hijab with Ibadah . I remember that Once a  Friend once asked me "Don't you feel Hot in this ?"  to which I replied "Hell is Hotter my Friend. "
Now, after trying a number of Hijab of different fabrics, I can add to her remark "Not at all ! If you choose the right fabric, Hijab is fun. " Hijab has become so much associated with me and with sisters like me that now some of us can clearly tell you what fabric to wear and what not.  To make it easy for the New Hijabis, and to help you choose an exclusive look, We have compiled a list of fabric that you may come across at a hijab shop .So, lets look at some of them.
The Different types of Hijab Fabrics
Jersey Hijab Fabrics
Jersey Hijab are the most comfortable Hijab fabric . Jersey is a stretchable light weight fabric which remains in shape without Pins.The level of comfort it provides not only leaves us wanting more of it .It is good for all Season. It works well in warmer climates as it absorbs sweat easily and is durable to protect us in Winter.
You can get this jersey hijab and more style here or through Amazon
2. Satin Hijab Fabrics
Headed for a glitzy night out? Then pick a satin scarf for that luxurious touch. Satin catches and reflects light from different angles, so try to avoid cheap-looking satin fabrics. Printed or plain, you can never go wrong with satin square scarves or shawls. If you're a satin newbie, begin with dark colours and slowly make your way to the lighter ones as you gain confidence. You can get Satin scarf here .
3. Crepe Hijab Fabrics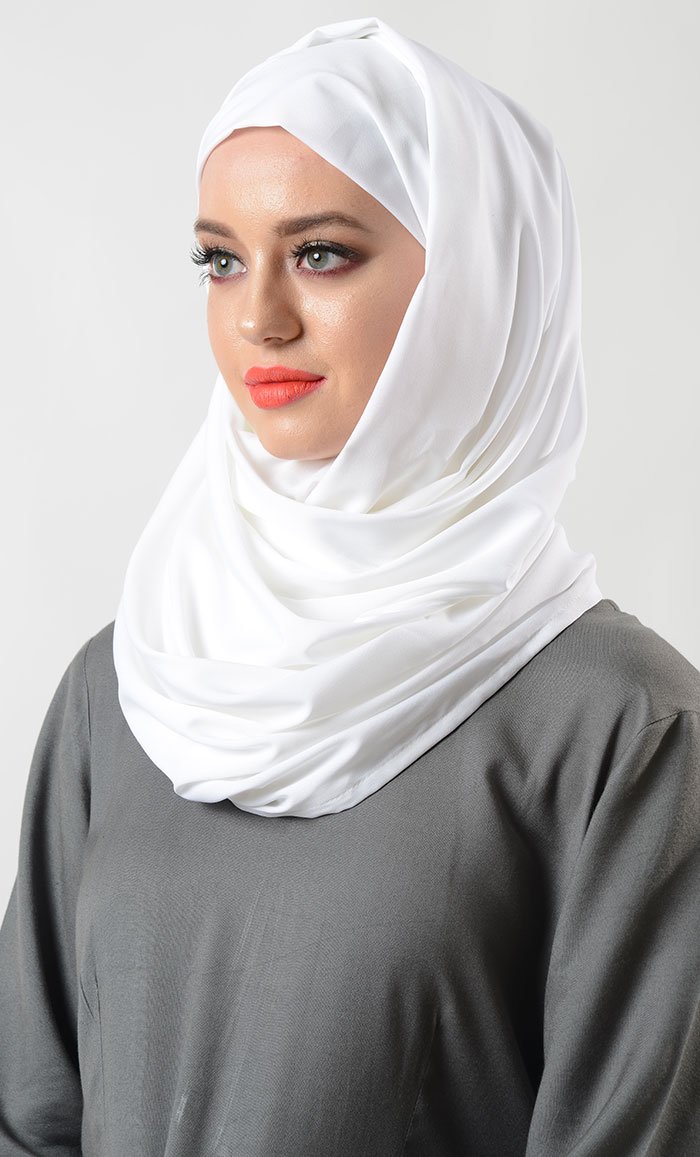 These are Everyday Hijab fabrics and can we worn in all season. They are Very soft and light to Wear . You can check it  in amazon
4. Active Wear -Workout Hijab
Sports ladies hijab scarves are made from ultra-light cool technology fabric.This high quality, lightweight, breathable material is comfortable and an asset for professional and amateur sporting sportswomen and is also great for Workouts in gyms. You can get them Here
5. Crinkled Cotton Mesh Hijab Fabrics
These are sparkling Cotton Hijab which are very comfortable to wear and look very classy.You can buy it through Amazon.
6. Linen Hijab fabrics
Linen scarf provides a coolness around your neck, thanks to the weave and linen fiber which allows more airflow and it's structure means it stays away from your skin allowing better airflow over your body, making your body free of moisture. Linen is a stiff fabric and is less likely to cling to the skin; when it billows away, it quickly dries out and becomes cool again. Your Linen scarf feels cool to the touch and linen fabric will quickly remove perspiration from your skin. Linen is capable of absorbing moisture before quickly yielding it again.
Because of its molecular structure linen scarf can absorb as much as 1/5 of its weight before giving a feeling of being damp or wet. In other words, your linen scarf will absorb lots of perspiration and is unlikely to feel clammy as water evaporates off linen as quickly as off surface puddle. So, water is both absorbed and evaporated quickly. The result is your linen scarf acting like an excellent cooling system.
You can get this Linen Scarf here.
7. Pashmina Hijab Fabrics
Pashmina Hijab have their own look and elegance . Whether you want to wear it for Parties ,for formal wear or casual Wear ,you don;t have to think twice with it . It can be a little hot in summer but for other season and for short hijab sessions they are superb .You can get check more colours of Pashmina shawl  in Amazon.
8. Polyester
Polyester is a sturdy fabric made from synthetic fibres. It's used mostly for items such as, clothes and home furnishings. Nowadays, there is a variety of polyester fabrics made for different uses. These, too, come in a variety of prints, so one can only gawk in excitement upon seeing some. Having said that, polyester might be a little unsuitable for hijab wear as the sweat absorption level is lower compared to natural fabrics. In Springs and Winter ,they can add colour to your look . If you want one you can check them out via amazon
9. Viscose Hijab
Do you often come across maxi hijabs in the market? That's what viscose looks and feels like. The lightweight material makes it perfect for voluminous styles as it does not give a stuffy feeling when wrapped around your head. It is also affordable as compared to other types of fabric, so having viscose hijabs in a variety of colours won't hurt your wallet.The lightweight fabric is perfect for any type of weather, from warmer days to cooler nights.
You can get some  Viscose Hijab via amazon
10. Chiffon hijab
Chiffon wraps well, looks gorgeous, easy to control the folds and comfortable to wrap. It is available in solid colours/ combinations. Since the fabric is light so wearing an under cap is essential to secure it in place. .Lightweight, sheer and airy – that's what chiffon is all about. If you love draping, chances are you will love chiffon. It drapes well to produce an effortless flair both in the front and back, and it works incredibly well with the weight of gravity. The fabric is usually sheer and flowing, therefore, wearing an undercap is quite crucial to help secure it in place. You can get them Here
11. Shimmer hijab
Shimmer Hijab are great to go with Gown and Party wear . You can match it with your favorite Maxi Dress for a special occasion. They are comfortable and look trendy . Very Soft and comfortable . Perfect Anytime, for Any Season(Spring, Summer or Autumn.Winter) .You can get it here 
12. Knit Hijab fabrics
Knits are suitable for colder weather, obviously. With the help of technology, knits now come with elastane, making the material stretch nicely according to usage. If you're living in a country that has four seasons, it is likely that you may have a few thin knit scarves ready to be used during winter. You can get the above scarf here .
13. Mulberry Silk Hijab
STORY OF SHANGHAI"is one of the famous brand of mulberry silk scarf in China. As is known to all, Chinese silk is world famous. Made with beautiful pattern , adding highlight and fashion sense. and Add a little personality to your favorite outfits when you wear this small square silk scarf for daily life, party, wedding, travelling, ceremonies and cool evening.
Super soft and cozy silk scarf, specially perfect for a chilly outdoor night . Great as a shawl, head wrap, hijab, stole or light scarves for women.
The scarf can be used for all seasons and occasions and also makes a beautiful gift for friends and loved ones.
You can get it via Amazon-Here .
14. Polyster Silk Hijab
These Scarf are made of 100% polyester satin silk and looks classy .You can get them Here 
15. 2 Piece Hijab Lace Cap with Chiffon Scarf
The Large Stretchy Lace Cap worn over the Chiffon Scarf beautifully displays the intricate lace and pearlesque accents. The 2 piece set includes a large 45″ x 45″ (114.3 cm square) chiffon scarf which covers the head and neck. The 2nd piece is a large lace cap worn over the chiffon scarf. The Hijab Cap is made of 2-way stretch polyester/spandex lace fabric embellished with over forty white 5mm round pearl beads in a spray across the front and sides of the cap. The cap features up to 1.75″ (4.45 cm) botanical lace tips extending over the edge to beautifully frame the face. The versatile cap is one size fits all because of the 7″ (17.78 cm) wide elastic band that forms the ruffles in the back that can expand up to 12″ (30.48 cm) wide. The hijab cap was made with quality craftsmanship for durability – all lace trim was sewn and the pearl beads are anchored with metal pinheads by a fastener
You can get this through Amazon at only $19.95 .Get it Here
To Aspire Young Muslimah to Wear Hijab ,We will come up with more Posts on the Different ways to Wear Hijab and other Modest Wear Ideas In sha Allah . So, Stay tuned, Subscribe!
If you like the article consider sharing it. Your single share means a lots to us.Republishing the article is permitted on the condition of proper attributes and link.
Do you want to get a Weekly magazine? You can subscribe to get a weekly email with our recent articles.
Follow us in our Social media Profiles: (facebook @islamhashtag), (instagram @islamhashtag ) and (pinterest @islamhashtag )