Dua for forgiveness of Sins-Will Allah Forgive Our sins?
As for those who turn to Allah in sincere repentance, Allah will turn to them in forgiveness. Allah calls all the polytheists, sinners, and transgressors to seek His forgiveness and declares to them that the doors to His mercy are wide open: "O My servants who have transgressed against their souls! Do not despair of Allah's mercy, for Allah forgives all sins. He is Forgiving, Most Merciful." [Sūrah al-Zumar: 53]
I came along this inspirational video: This puts us in shame as to what are we doing as an ummati of Muhammad SAW.
Don't let Shaitan to delude you to believe"Continue to your Sins because your Sins are big and it cannot be forgiven ."Allah is "Al Ghaffur " and "Raheem ".There are three names of Allah which refer to Allah's forgiveness. The name al-Ghāfir means the Forgiver, while the names al-Ghafūr and al-Ghaffār are more emphatic, indicating that Allah is most forgiving, oft-forgiving. Allah refers to Himself as Oft-Forgiving in many places in the Quran because He created us knowing that our natures would make us prone to sin, and that we would seek His forgiveness and He would forgive us. Taken together, these three names occur in the Qur'ān ninety-eight times. Subhan Allah! Allah Promises to us that if We seek his forgiveness, he will forgive us.
Allah says: "Announce, (O Muhammad) to My slaves that verily I am the Forgiving, the Merciful." [Sūrah al-Hijr: 49]
"I am Forgiving to those who repent and believe and do good, and afterward follow right guidance." [Sūrah TāHā: 82]
"The angels glorify and praise their Lord and seek forgiveness for those on the earth. Verily, Allah is the Forgiving, the Merciful".[Surah Ash-Shura 42:5]
In one instance, the Qur'an refers to Allah as being "the best of those who forgive" when relating where Moses offers the following supplication: "You are our Protector: so forgive us and give us Your mercy; for you are the best of those who forgive." [Sūrah al-A`rāf: 155]
Allah mentions the claim of the Christians who say: "Indeed Allah is one of three." In the very next verse, Allah says: "Will they not turn to Allah and ask His forgiveness? For Allah is Forgiving, Merciful." [Sūrah al-Mā'idah: 74]
How to seek Forgiveness of Allah
"Truly, Allah loves those who repent, and He loves those who cleanse themselves." [al-Baqarah 2:222]
It is affirmed in the Sunnah that Allah calls forth during the last third of the night, saying: "Is there anyone beseeching me, so I can give? Are any seeking my forgiveness, so I can forgive them? Are there any penitent people for me to pardon? Is anyone calling to me so I can answer?" [Sahīh al-Bukhārī (1145) and Sahīh Muslim (758)]
Can Allah Forgive our  Sins If they are major Sins
First of all we should try not to commit Major Sins. But if you have already committed some Sin and you want to repent, Don't let Shaitan delude you to believe"Continue to your Sins because your Sins are big and it cannot be forgiven ."
Allah Says-
Then, verily! Your Lord for those who do evil (commit sins and are disobedient to Allâh) in ignorance and afterward repent and do righteous deeds, verily, your Lord thereafter, (to such) is Oft-Forgiving, Most Merciful. [An-Nahl 16:119]
Declare (O Muhammad SAW) unto My slaves, that truly, I am the Oft-Forgiving, the Most-Merciful. [Al-Hijr 15:49]
Your Lord knows best what is in your inner-selves. If you are righteous, then, verily, He is Ever Most Forgiving to those who turn unto Him again and again in obedience, and in repentance. [Al-Isra 17:25]
And verily, I am indeed Forgiving to him who repents, believes (in My Oneness, and associates none in worship with Me) and does righteous good deeds, and then remains constant in doing them, (till his death). [Ta-Ha 20:82]
And (commanding you): "Seek the forgiveness of your Lord, and turn to Him in repentance, that He may grant you good enjoyment, for a term appointed, and bestow His abounding Grace to every owner of grace (i.e. the one who helps and serves needy and deserving, physically and with his wealth, and even with good words). But if you turn away, then I fear for you the torment of a Great Day (i.e. the Day of Resurrection). [Hud 11:3]
This is an example of Allah's generosity and boundless favor. Prophet Muhammad (peace be upon him) relates that Allah says: "O child of Adam! However much you beseech Me and place your hopes in Me, I will forgive you without any reservation. O child of Adam! If you have sins piling up to the clouds and then ask My forgiveness, I will forgive you without any reservation. O child of Adam! If you come to me with enough mistakes to fill the Earth, and meet Me without associating anything as a partner with Me, I will come to you with enough forgiveness to fill the Earth." [Sahīh Muslim (2687)]
Allah forgives whom He pleases. Allah makes it clear that His forgiveness is determined by his will. "Allah does not forgive that partners be associated with Him, but He forgives other than that for whomever he pleases." [Sūrah al-Nisā': 48]
This verse affirms for us that Allah forgives all sins, without exception. Allah is willing to forgive even polytheism and unbelief, as long as the perpetrator renounces such falsehoods and sincerely repents. Success comes from Allah, and Allah knows best.
 Dua for Forgiveness:
Repent with a clear heart and read the Duas taught by  Prophet(SAW) to seek forgiveness. Allah willing,You fill find Peace.
Hadith on forgiveness are:–
In one hadith, Abdullah bin Abbas (May Allah be pleased with them) narrates that Rasulullah (Sallallahu Alayhi Wasallam) said:
"The one who (regularly) says Istighfaar, that is, frequently repent to Allah Ta'aala for sins committed, Allah Azza Wa-Jal will open a path from poverty and difficulties. All sorrow and hardship will be removed, and in its place prosperity and contentment granted. One will receive sustenance from unimagined and unexpected sources."
The Prophet Muhammad (saw) has taught us many words of repentance and it is good if we learn, understand, and use them. Of these one has been mentioned as Syed-ul-Istighfar (the master of forgiveness). A hadith explains its extraordinary significance: "If a believer says this with complete faith and sincerity in the morning and dies before that evening, he will enter paradise. If he says it during the night and dies before the morning, he will enter paradise." This powerful du'a is our daily pledge of allegiance. We will do well to memorize it in Arabic and never let a day or night go by without saying it with full consciousness: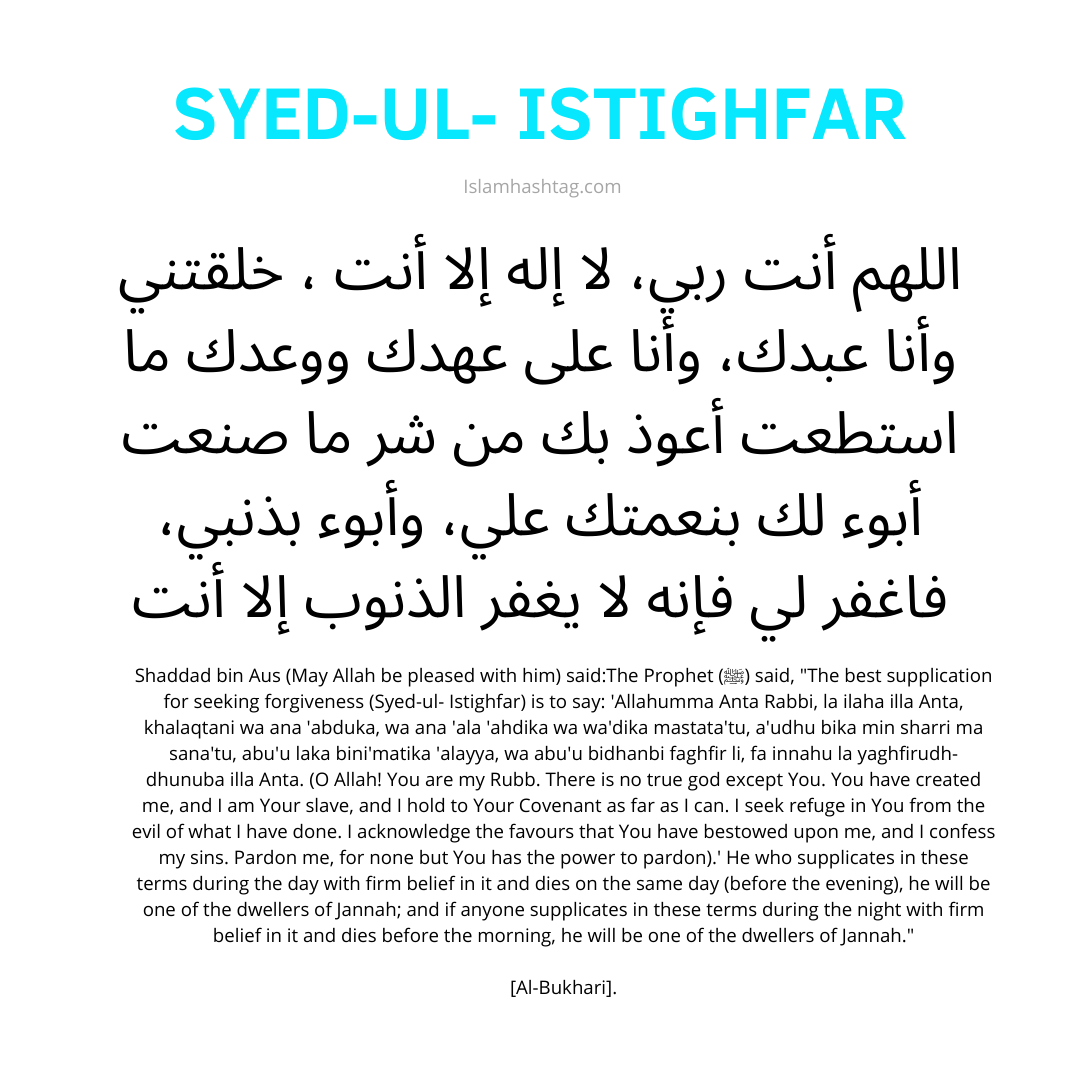 اللَّهُمَّ أَنْتَ رَبِّي لا إِلَهَ إِلا أَنْتَ خَلَقْتَنِي وَأَنَا عَبْدُكَ وَأَنَا عَلَى عَهْدِكَ وَوَعْدِكَ مَا اسْتَطَعْتُ أَعُوذُ بِكَ مِنْ شَرِّ مَا صَنَعْتُ أَبُوءُ لَكَ بِنِعْمَتِكَ عَلَيَّ وَأَبُوءُ لَكَ بِذَنْبِي فَاغْفِرْ لِي فَإِنَّهُ لا يَغْفِرُ الذُّنُوبَ إِلا أَنْتَ

"O Allah! You are my Lord. There is no God except You. You created me and I am Your slave. To the best of my ability, I will abide by my covenant and pledge to You. I seek Your protection from the evil of my own creation. I acknowledge Your favors to me and I admit my sins. So please forgive me for no one can forgive sins except You."
Dua for forgiveness 01
اللَّهُمَّ إِنَّكَ عَفُوٌ تُحِبُّ الْعَفْوَ فَاعْفُ عَنِّي
Allahumma innaka Afuwwun TuHibbulAfwa FafuAnnii.
'O Allah, you are the Forgiver, You love to forgive, so forgive me.' – Musnad Ahmad, Sunan ibn Majah and at-Tirmidhi.
---
Dua for forgiveness 02

Rabbana innanā amanna, faghfir lana, dhunoobana wa-qinna 'adhāāban-naar
(Our Lord!  we have indeed believed: forgive us, then, our sins, and save us from the agony of the Fire)
[surah Ali' Imran; 3:16]
---
Dua for forgiveness 03

Rabbana la tu'a-khidhna in-nasina aw akta'na, Rabbana wa la tahmil 'alaiyna isran kama hamaltahu 'alal-ladheena min qablina.  Rabbana wala tuham-milna mala taqata-lana beh.  Wa'fu-'anna, waghfir-lana war hamna, Anta maulana fansurna 'alal qawmil kaafireen
(Our Lord! Condemn us not if we forget or fall into error; our Lord!  Lay not on us a burden like that which Thou didst lay on those before us;  Our Lord! lay not on us a burden greater than we have strength to bear.  Blot out our sins, and grant us forgiveness.  Have mercy on us, Thou art our Protector; Help us against those who stand against Faith)
[surah al-Baqarah; 2:286]
---
Ayate Kareema

Recite the Ayate Karima:
(There is no God but You; Glory be to You, Truly I have been one of the wrongdoers)[Surah al-Anbiyah, 21: 87]
Ref:
Hadith on Sayyid ul Istighfar:
Shaddad bin Aus (May Allah be pleased with him) said: The Prophet (ﷺ) said, "The best supplication for seeking forgiveness (Syed-ul- Istighfar) is to say: 'Allahumma Anta Rabbi, la ilaha illa Anta, khalaqtani wa ana 'abduka, wa ana 'ala 'ahdika wa wa'dika mastata'tu, a'udhu bika min sharri ma sana'tu, abu'u laka bini'matika 'alayya, wa abu'u bidhanbi faghfir li, fa innahu la yaghfirudh-dhunuba illa Anta. (O Allah! You are my Rubb. There is no true god except You. You have created me, and I am Your slave, and I hold to Your Covenant as far as I can. I seek refuge in You from the evil of what I have done. I acknowledge the favours that You have bestowed upon me, and I confess my sins. Pardon me, for none but You has the power to pardon).' He who supplicates in these terms during the day with firm belief in it and dies on the same day (before the evening), he will be one of the dwellers of Jannah; and if anyone supplicates in these terms during the night with firm belief in it and dies before the morning, he will be one of the dwellers of Jannah."
[Al-Bukhari].
Hadith on Ayate Kareema:
Ibrahim bin Muhammad bin Sa`d narrated from his father, from Sa`d that the Messenger of Allah (ﷺ) said:
"The supplication of Dhun-Nun (Prophet Yunus) when he supplicated, while in the belly of the whale was: 'There is none worthy of worship except You, Glory to You, Indeed, I have been of the transgressors. (Lā ilāha illā anta subḥānaka innī kuntu minaẓ-ẓālimīn)' So indeed, no Muslim man supplicates with it for anything, ever, except Allah responds to him."
May Allah forgive our Sins.
You May Like to Read
One Dua for all Worries and Depression
20 Short Dua  that can be read in a minute 
How to Control anger islamic Way
How to Get More Barakah in Life
Caring Verses from Quran for 17 Personal Problems
Dhikr List for People who Want to engage in Dhikr
If you like the article consider sharing the complete article along with the link. This helps us reaching more People. Republishing the article is permitted on the condition of proper attributes and link.