People in Madaya have Resorted to Wishing that they were Dead
"A man will pass by the grave of another and wish he was in the latter's place. "It Seems that the Hadeeth of the End times is Seeming to Come true.Read about the Sad state of our Brothers and Sisters in the Besieged area of  Syria.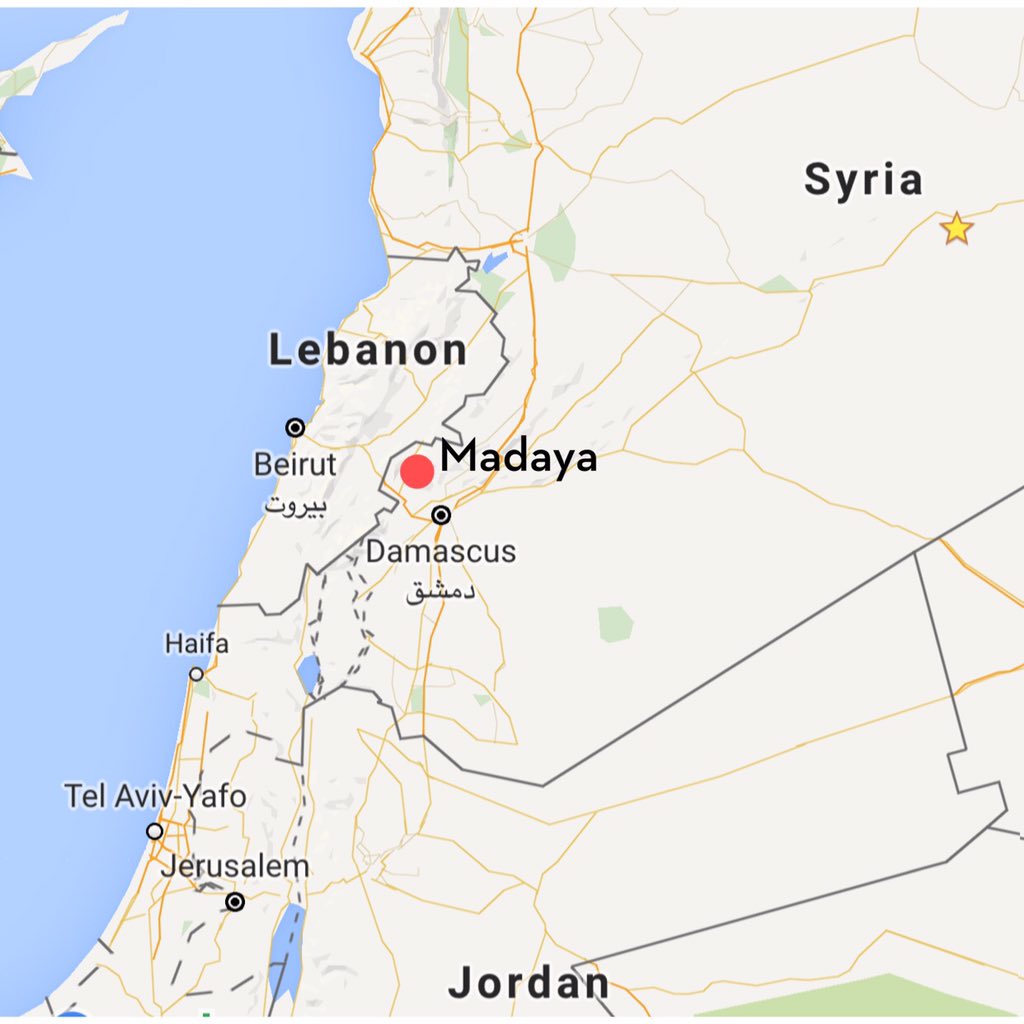 "My only dream is to have a piece of bread."
These are the words of a 52 year old woman in the Syrian town of Madaya, where 40,000 humans are being slowly starved to death under a siege enforced by the Lebanese militia Hezbollah.People have resorted to wishing that they were dead. On Being Interviewed,A Syrian Man said: "How do we feel about the world? If you don't care about us, please just help us to die like humans, not like that. Ask someone to bomb us and forget about us." It's hard to believe that this is happening NOW, in our lifetime, and we can't stand by and watch it happen.
Up to 30,000 people have been trapped in Madaya since July, under a tight siege by pro-government forces. They say they are being treated as pawns in a complicated power play, punished for the suffering of two villages hundreds of miles away at the hand of anti-government troops.
In the spring of last year, a rebel coalition known as Jaysh al-Fateh captured large swaths of north-western Syria from the Assad regime, surrounding two Shia enclaves in Idlib province called Fua and Kefraya, whose citizens are also enduring a debilitating siege.
Assad's forces are now starving Madaya and neighbouring Zabadani, once a stronghold of the opposition, after a punishing six-month campaign. Under a ceasefire deal, foreign backers of the government and the opposition are attempting to orchestrate a population swap, essentially a peaceful "sectarian cleansing", According to the Guardian reports.
.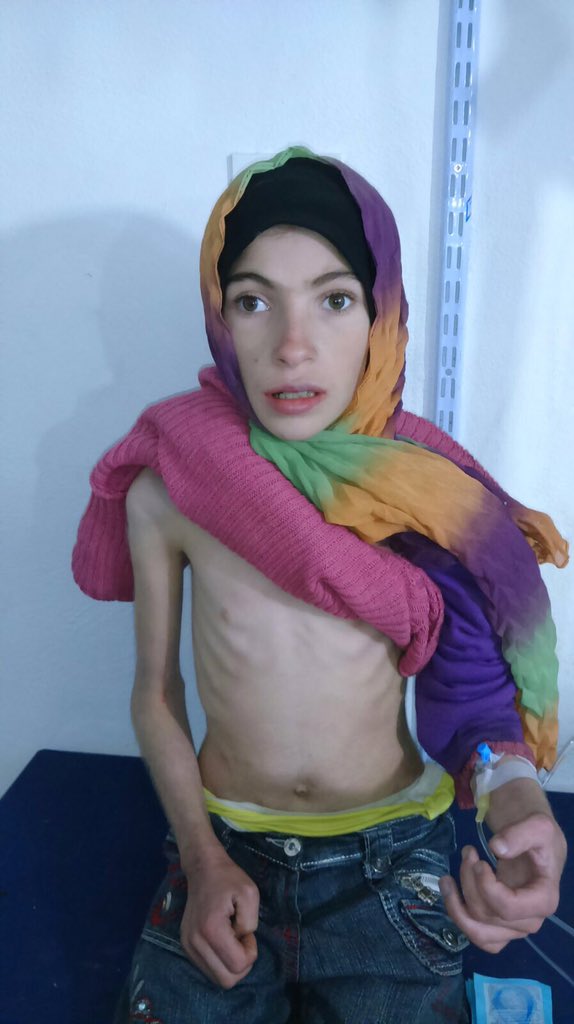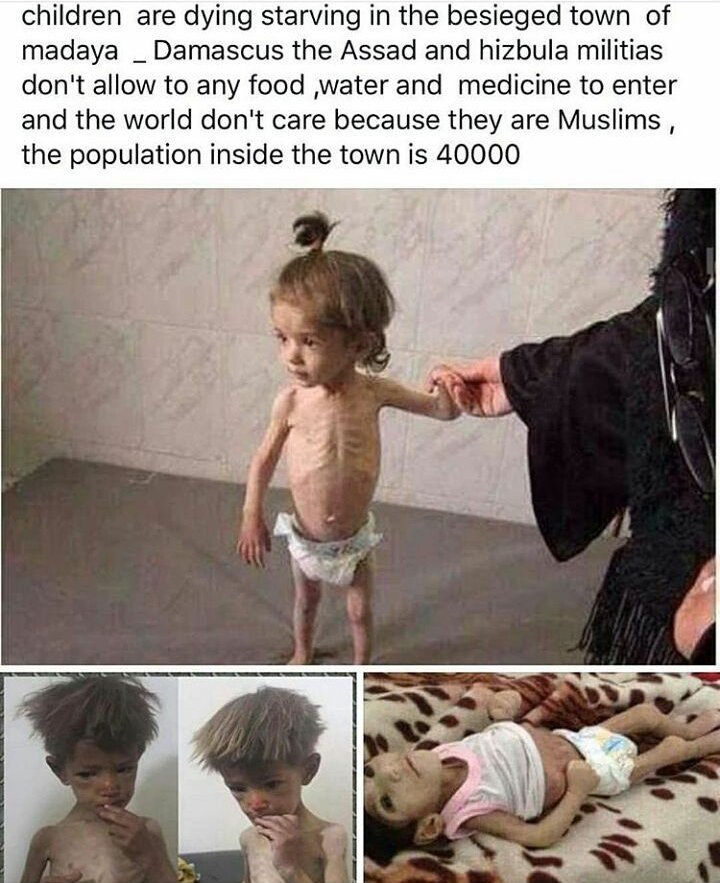 Life in MADAYA:
NO Food to Eat,NO Water to Drink:
People have taken to removing interior doors in their homes and burning them for heat, said a local official who identified himself as Samir Ali. He told The Associated Press via Skype that the cost of goods has soared, with a kilogram (2.2 pounds) of crushed wheat selling for about $250 and 900 grams (31 ounces) of powdered milk for infants going for about $300. A group of people recently killed a dog and ate it, he said.
Families are eating leaves, grasses and water flavored with spices in the town of Madaya, where rice is sold by the gram because a kilogram costs as much as $250 (£170). Some have killed and eaten their pets.
"Children, women and elderly are dying as a result of hunger and cold," said coalition member Salah Hamawi.But UN efforts to take in food often get disrupted by either insurgents or pro-government fighters, the Observatory said.
In October, the UN said it had mistakenly sent hundreds of boxes of expired nutrition biscuits to besieged civilians in Zabadani and Madaya.
Moamen Haj Ali, another wounded Shiite fighter being treated in Beirut, said water is running out in Foua and Kfarya because of a lack of diesel fuel for pumping stations.
"To die quickly and suddenly by the shelling of the Syrian army is more merciful than the slow death that we terribly face every day," Manal al-Abdullah, a civil rights activist from Madaya, told Al-Monitor via Skype."We are dying in this big prison called Madaya. We reached a dead end following the failure of the truce agreement. They did not allow us to leave or bring in food. There is no solution in sight to the hunger crisis we are living. We ask the regime and the opposition to settle their political disputes away from civilians. We can no longer endure this situation."Abdullah said most Madaya households live on one "meal" a day. They were anxiously awaiting flour and aid that were supposed to be delivered Dec. 29 by Red Crescent teams that entered the town Dec. 28 to evacuate the wounded. Under UN auspices, about 135 wounded militants and their families were evacuated from Zabadani, and 336 wounded militants and their families were taken to Lebanon. Still, the aid didn't come.As of this writing, Abdullah was still feeding her children edible grasses and salted water.​
No Medicines,No Hospitals
"Life is miserable. People cannot find a pill of aspirin or painkillers," said Mohsen Darwish, a Shiite cleric from Kfarya who lives in Lebanon but is in contact with residents of both. "Their dream is to eat vegetables.
There are no hospitals in the town and virtually no health care services.
People are Undergoing Surgery without Anaethesia.
The evacuated fighters described how people who need medication in the two villages often must take drugs that are expired, and that mothers must crush grains of rice — when available — and boil the mixture to make baby food.
People Trying to Flee are Killed or Blowned Up
Of 23 deaths in Madaya in recent weeks, 10 were attributed to a lack of food and the rest were either shot to death or blown up by mines planted by pro-government and Hezbollah forces, said Rami Abdurrahman of the Syrian Observatory for Human Rights, a Britain-based group. At least 25 checkpoints prevent people from leaving, Ali said.
"We have recorded so far 15 death cases caused by malnutrition, including children and elderly. While trying to leave the town, 30 civilians from among the residents died by the explosion of regime-implanted land mines or were killed by sniper operations," Faeq Burhan, a medical volunteer in Madaya, told Al-Monitor.The situation is compounded by fraudulent traders who are gouging residents for the food that is left or smuggled in.
People are Wishing to Die Because NO One Cares.
According to Mr Ibrahim,an activist 10 men have so far died trying to break the siege, killed either by sniper fire or by stepping on the land mines that have been laid around the edges of the town to prevent its inhabitants from escaping. A further 15 men and six children have lost one or both of their legs or a hand because of land mines.
He said that there were 850 infants in urgent need of milk, while six newborn babies had died because their mothers were unable to feed them.
The price of food has spiralled uncontrollably, with a 1kg bag of rice costing as much as $100. One photograph showed a car for sale in exchange for 10kg of rice or 5kg of baby milk  formula. The vehicle was incorrectly attributed to Mr Alloush, according to Mr Ibrahim. "I wish Mr Jamil had a car," the activist said. "He could sell it rather than dying like that. The poor man used to have a bike and nothing more." He added: "All those who have cars, they are offering them for sale."
The activists said that they had tried and failed to raise the plight of the entrapped inhabitants of Madaya. They have become convinced that no one cares.
Mr Ibrahim said that he and fellow residents had resorted to wishing that they were dead. He said: "How do we feel about the world? If you don't care about us, please just help us to die like humans, not like that. Ask someone to bomb us and forget about us."
What is the Problem in Besieged area of Syria ?
Hussain Assaf,an Activist claimed that the Lebanese Shia militia, which has been fighting on the side of president Bashar al-Assad in the Syrian conflict, was effectively holding civilians hostage in order to gain leverage over two embattled Shia towns in Syria's northern Idlib province.
The towns, Kafrayya and Fua, are besieged by members of the Islamist umbrella group Jaish al-Fatah, he said. One of its members, the Islamist group Ahrar al-Sham was among the groups that had been battling pro-government forces in the strategic town of Zabadani, which lies close to Madaya.
Mr Assaf claimed that, as part of its efforts to force the coalition to relinquish Kafrayya and Fua, Hezbollah had forced residents in the areas surrounding the predominantly Sunni Muslim Madaya to move into the town. It was slowly forcing them to starve in a bid to ease conditions for the two Shia towns, he said.
It is a view echoed by the pro-opposition monitoring group the Syrian Observatory for Human Rights, which has claimed that the Syrian army and Hezbollah is using Madaya as a tool to break the sieges against Shia civilians. It accused the international community of "silence" in the face of extreme human suffering. Earlier this week  an exchange of wounded fighters and civilians from Zabadani, Kafraya and Fua took place in a rare UN-backed local truce. But Madaya remains encircled.
Mr Assaf, who is originally from Madaya but is now based in the United States, said that its inhabitants were desperate to end the siege both on their own town and on the Shia towns. They have held protests calling for aid to be allowed in and the injured and sick to be allowed out.
How Can We HELP?
Now only a huge diplomatic push on the highest level, led personally by the UN Secretary General, can finish what was started and put an end to this nightmare.
The people of Madaya are losing all hope. Let's show them the world cares, that we won't let more mothers see their children starve to death — not on our watch. Sign this urgent petition to Ban Ki-moon then share widely — once we have a global outcry big enough, we'll bring Madaya to the doorsteps of the UN in New York.
Other Organizations Which are Trying to Help:
The Syrian Relief charity is shared by Ustadh Abu Eesa from Manchester, UK.
https://www.syriarelief.org.uk/news/madaya-appeal/
Source: https://www.facebook.com/AbuEesaPersonal/posts/569136589916179
There May be Other Organisations .If You Know of Other Organisations Which can help this People in Need,Do Share with Us in the comment Box below.
Please Remember Syria in your Prayers.
Source:
All the Above Informations have been Collected from different Reputed Newspapers.
You May Also Like to Read:The Story of A Syrian Refugee who Poured Gasoline and Burned herself before the UN headquarter in humilation to keep begging to support her ailing Family.
If you like this consider sharing it. Your single share means a lots to us.Republishing the article is permitted on the condition of proper attributes and link.
Do you want to get a Weekly magazine? You can subscribe to get a weekly email with our recent articles.
Follow us in our Social media Profiles: (facebook @islamhashtag), (instagram @islamhashtag ) and (pinterest @islamhashtag )