Mahram for Hajj or Umrah was a condition to be able to perform the pilgrimage which is now removed by the saudi athorities.
Hajj and Umrah Services Adviser Ahmed Saleh Halabi said that it is now permissible for a woman to perform Hajj or Umrah without a mahram, accompanied by "trustworthy women or secure company to perform Hajj or Umrah. This is the view of the Maliki and Shafi'i scholars."
Writer Faten Ibrahim Hussein, former adviser to the Minister of Hajj, said that the Saudi state provides all facilities for pilgrims to perform Hajj and Umrah based on Saudi Vision 2030.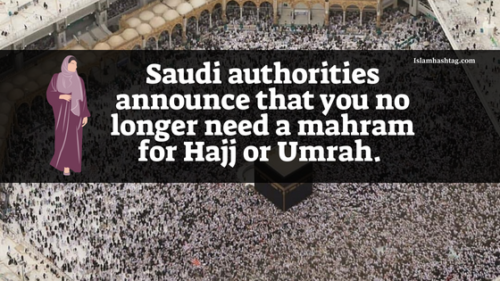 "Allowing women to perform Umrah without the condition of a mahram makes life easier for them because many have difficult social conditions and may not find a mahram, or it may cost them a lot, while they are eager to perform Umrah," Hussein said.
"Fortunately, the fight against all forms of social and economic corruption played a positive role in this," she added.
When corruption is stopped, she explained, security is established.
"Security has extended throughout the Kingdom and in all means of transportation and at ports, giving women full protection. Moreover, strong infrastructure has been established in legislation, including the anti-harassment system," she said.
"These are deterrent penalties for anyone who may contemplate breaking the law. In addition, surveillance cameras are obligatory in vital areas, including airports, border crossing ports, the Grand Mosque, the Prophet's Mosque and others. Thus, a woman is safe, especially when she is in good company with other women.
"There are many women who come to the Kingdom to work without a mahram, and there are no significant incidents, thanks to the security we live in…There is no fear for women to come without a mahram because the reason for that no longer exists."( Arab news )
Also read: Advice to those who couldn't go to Hajj
Ikhtilaf between scholars regarding Mahram for Hajj in different Fiqh
Mahram for Hajj according to Hanafi Fiqh:
It is not permitted for her to perform hajj in the company of anyone else besides a Mahram. 
Daleel : Prophet (God bless him and grant him peace) said, "A woman is not to perform hajj except when there is a mahram with her."
This is when the distance between her and Makkah is a journey of three days. If it is less than 3 days there is no need for a Mahram.
Mahram for Hajj – Ikhtelaf with Imam Shafi
According to Imam Shafi rahimullah it is permitted for her to perform hajj when she departs with companions and there are with her trustworthy women for the attainment of safety through companionship.
Reply of Hanafiya ( hanafi fiqh) : There is apprehension that she will be exposed to trials and such exposure increases by the merger (company) of other women with her. It is for this reason that seclusion with a strange woman is prohibited even when there is another woman with her.
What are your views? Do let us know in the comment box below.