5 most famous mosque in oman
If you are planning to explore Oman soon, know that Oman has more mosques than you can count. In this article we take you through Oman's five most beautiful mosque and guide you how to get your visa sorted out so that you can look at these marvels of Islam up close.
In recent years, Oman has quickly become a popular holiday destination, and it's not difficult to see why. The country has some of the best natural, cultural and architectural sights to marvel at. Yet one aspect of Oman clearly rises above the rest, both figuratively and literally: its mosques. Oman's mosques clearly show the passion and religious devotion that went into building them, and all travellers regardless of their faith will marvel at these imposing structures.
1: The largest Mosque in Oman: Grand Sultan Qaboos Mosque in Oman today
Unsurprisingly, Oman's largest mosque is also its most popular one with tourists. The mosque is one of several which were commissioned by Sultan Qaboos bin Said Al Said, both as a sign of religious piety and to honour the country and his achievements. The Grand Mosque is located in Oman's capital Muscat, and in total can house a staggering 20,000 people. Inside you can find expertly crafted Persian rugs and a massive crystal chandelier. Non-Muslims are allowed to view the interior of the mosque from 8am to 11am.
2: Mosque of the Great Prophet
Recognizable by its lovely blue dome and minaret, the Mosque of the Great Prophet can be found in Muscat, and was built in the 15 th century. It is the main mosque of the Lawati tribe in Oman. Since its inception, it has been renovated several times, yet it very much maintains its classic beauty. Unlike some of the other mosques in Oman, the Mosque of the Great Prophet is not open to non-Muslims. They will have to be content with admiring the outside.
3: Al Zulfa Mosque
The Al Zulfa Mosque is also known as the Royal Guard of Oman Mosque, and is without a doubt one of the most visually stunning mosques in Oman. Everything from the colour to the shape speak of architectural genius. The windows and doors have Arabic calligraphy on them, and inside you can find tinted glasswork in the prayer hall. With more than 20 domes, the Al Zulfa Mosque is a mosque you can't miss.
4: Al Zawawi Mosque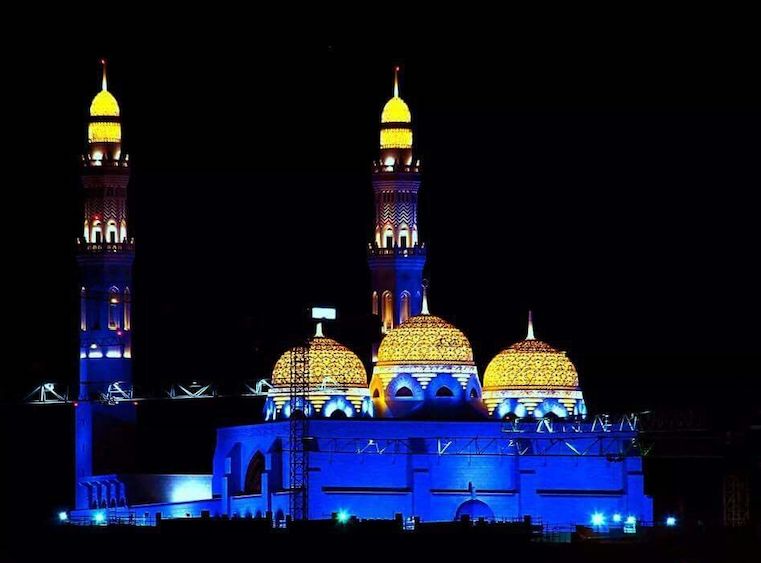 You can find this mosque in the Al Khuwair district of Muscat. The Al Zawawi Mosque was finished in 1985 and was commissioned by the Al Zawawi family to honour their family heritage. The mosque is easily recognizable from afar by its golden hue, especially when the sun shines directly on it. The Al Zawawi Mosque is unique in that it actually has the entire contents of the holy Qur'an hanging from the walls inside the mosque, on metal plates.
5: Mazoon Mosque

The Sayyidah Mazoon bint Ahmed Mosque, Mazoon Mosque for short, was built and named after Sultan Qaboos' mother, Sayyidah. From the outside, the Mazoon Mosque looks fairly basic, with unpainted walls and none of the splendour of some of the other mosques. Yet the interior of the mosque is absolutely stunning, with complex calligraphy and other forms of intricate decorations which will easily take your breath away.
Oman visa for travelling to Oman
If this piqued your interest to travel to Oman and see these wonders of the Muslim world for yourself, remember to first apply for your Oman visa before you start booking flight tickets or hotels. Since 21 March 2018, it is no longer possible to get your visa at the airport in Oman after you land. Instead, you have to apply for one before departure, which can be done online. This Oman e-visa (electronic visa) costs £44.95. All you need to do is fill out the application form, and wait for the visa to be sent by e-mail. Print it and take it with you so you can show it at the airport when asked.
About the Contributor: e-Visa.co.uk is a modern visa bureau with a clear mission: Many travelers dread having to arrange their travel documents. Visa procedures are oftentimes cumbersome, as consulates can be poorly reachable and application forms needlessly complicated. They offer a solution to all this through our accessible online visa services. Their visa application website contains clear information and explanations about all visa rules and procedures. For each visa type they offer a simple application form with automated error-recognition software and explanations at each input field.
If you like this consider sharing it. Your single share means a lots to us.Republishing the article is permitted on the condition of proper attributes and link.
Do you want to get a Weekly magazine? You can subscribe to get a weekly email with our recent articles.
Follow us in our Social media Profiles: (facebook @islamhashtag), (instagram @islamhashtag ) and (pinterest @islamhashtag )