Freedom of religion is a fundamental human right in the Ghanaian legal system. To be specific Article 21 (c) of the 1992 Constitution states: "All persons shall have the right to freedom to practice any religion and to manifest such practice."
Unfortunately, most Muslim women and girls living in Ghana have dealt with individuals who exert their biases and bigotry into institutional cultures. Thus, making it impossible for Muslim women to wear the hijab as part of their religious freedoms stipulated in the 1992 constitution.
The #Hijabisanidentity campaign pushes for the right of Muslim women who choose to wear the hijab to be free to do so without intimidation from any individual or institution.
Recently, an invigilator of the West African Examination Council (WAEC) asked a candidate to remove her hijab before sitting her exams. This latest move sparked a recent social media campaign by Islam advocates dubbed: #Hijabisanidentity
They believe the successful campaign which culminated in a massive demonstration in some regions – North, Ashanti and Accra – will help shake up some traditionally-held cultural misconceptions about the female Muslim identity. On Saturday October 12, Ghanaian Muslim women marched for their right to wear the hijab. The #Hijabisanidentity campaign is still on.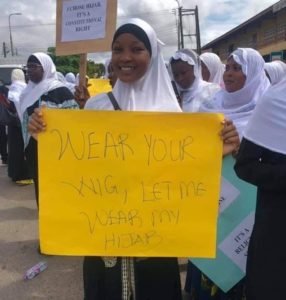 @amnestyusa @aforgutu @UN_Women @cjwerleman @hrw @unhrcpr @UNHumanRights #HijabisanIdentity https://t.co/IAwW1rj7So

— Sumeyye Turhan (@__Sumeyye__) October 17, 2019
What we do in this life will echoe in eternity.
Munira Jibril was with us last Saturday on the Peaceful #Hijabisanidentity walk on the streets of Accra.
Today, she is no more with us. Our hearts are with her family and may Allah grant her Jannah pic.twitter.com/esu0Fpj520

— Abdallah Issah Gohina (@eesabdallah) October 15, 2019
Stop policing Women's bodies!
My hijab, my CHOICE My choice, my right
If you like the article consider sharing it. Your single share means a lots to us.Republishing the article is permitted on the condition of proper attributes and link.
Do you want to get a Weekly magazine? You can subscribe to get a weekly email with our recent articles.
Follow us in our Social media Profiles: (facebook @islamhashtag), (instagram @islamhashtag ) and (pinterest @islamhashtag )