John River Poses for a Photographs on Red Carpet during the Much Music Video Award in Toronto while supporting Muslims on Sunday June 20,2016
If you're familiar with Canadian hip-hop artist John River, you know he's one who isn't afraid to make powerful statements — and his appearance at Sunday night's MMVAs was no exception.
Rocking a white, long-sleeved sweater with the phrase, "Stop Blaming Muslims" printed on the front, the Mississauga, Ont. native sent a profound message not only to everyone on the red carpet, but also to viewers watching around the world.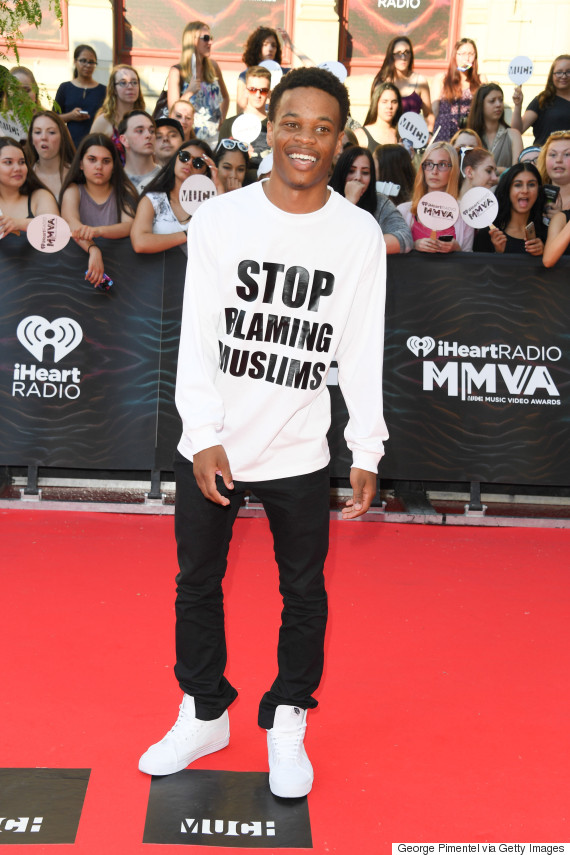 John River arrives at the 2016 iHeartRADIO MuchMusic Video Awards in Toronto.
"It's important at times like these that we really focus on equality as much as possible and progressing our societies into positive, loving spaces," the Best Hip-Hop Video nominee told HuffPost Canada Style on the red carpet.
"We have a lot of beautiful diverse people here, a lot of diverse nominees and a lot of diverse fans, you know? And we're all here together and music brought us all together. I think it's important we all have open minds when we look at unity rather than segregation."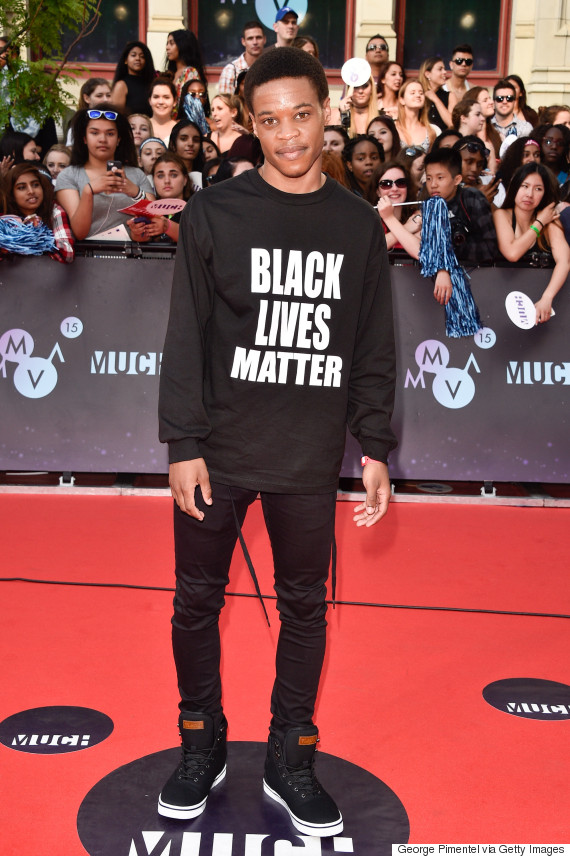 John River arrives at the 2015 MuchMusic Video Awards at MuchMusic HQ on June 21, 2015 in Toronto.
The 21-year-old has been a supporter of the #BlackLivesMatter movement since it's inception in 2012,and rallied with many activists during Toronto's "Black City" protest, which took place earlier this year to bring attention to the controversial carding policy and police brutality against black people in the area.
I used to care so much. Got caught up in all my new attention, hard to deal with. I started here, good to be back. pic.twitter.com/MQ8WhGNsZi
For everybody asking me why it's#BlacklivesMatter and not#AlllivesMatter hopefully this helps you understand.pic.twitter.com/Tj8Y0HdpZK
While the rapper may still be in his early 20s, he has a brave ability to unapologetically speak his mind and stand up for his beliefs. There's no doubt River is well on his way to becoming a major influencer not only in Canada, but in the whole world.
This news first appeared in Huffpost.
If you like the article consider sharing it. Your single share means a lots to us.Republishing the article is permitted on the condition of proper attributes and link.
Do you want to get a Weekly magazine? You can subscribe to get a weekly email with our recent articles.
Follow us in our Social media Profiles: (facebook @islamhashtag), (instagram @islamhashtag ) and (pinterest @islamhashtag )