Assalamu Alaikum wrwb,
How are you?
Alhumdulillah!The blessed month of Rabī' al-Awwal has commenced a few days ago.It is the month in which our dear Prophet,Prophet Muhammad Sallalahu alaihe wassalam was born.
It is a month in which we should educate ourselves regarding our beloved Prophet ﷺ by studying his blessed life, his sublime character, acting upon his Sunnah and sending salutations as much as much possible.
In Sha Allah this month we will be writing on our dear Prophet,Prophet Muhammad Sallalahu alaihe wassalam. Our last month series was a Success and many People found it useful.It was "The Sahaba Series".You can check the Posts here.
And especially on this blessed occasion,We are giving away "Islamic Cursive handwriting Worksheet " which can be used to teach kids about Islam and Prophet Muhammad SAW .
I made this worksheet to make the study time of kids Productive.With this worksheet,you will be able to teach the kids about Islam and even they enjoy handwriting time.
Cursive writing helps train the brain to integrate visual (and) tactile information, and fine motor dexterity.We usually have costly cursive handwriting books and their subject matter are just random things.I wanted something for my daughter which would involve her in her writing work and also help her learn the deen. I have developed this worksheet for klds aged 4-8 .In sha Allah This will be beneficial for your Kids. This is a Sadaqa Jariya and is available in our website absolutely FREE.
Here are Sample Pages : If you like the, Download them and Print them in A4 size Paper.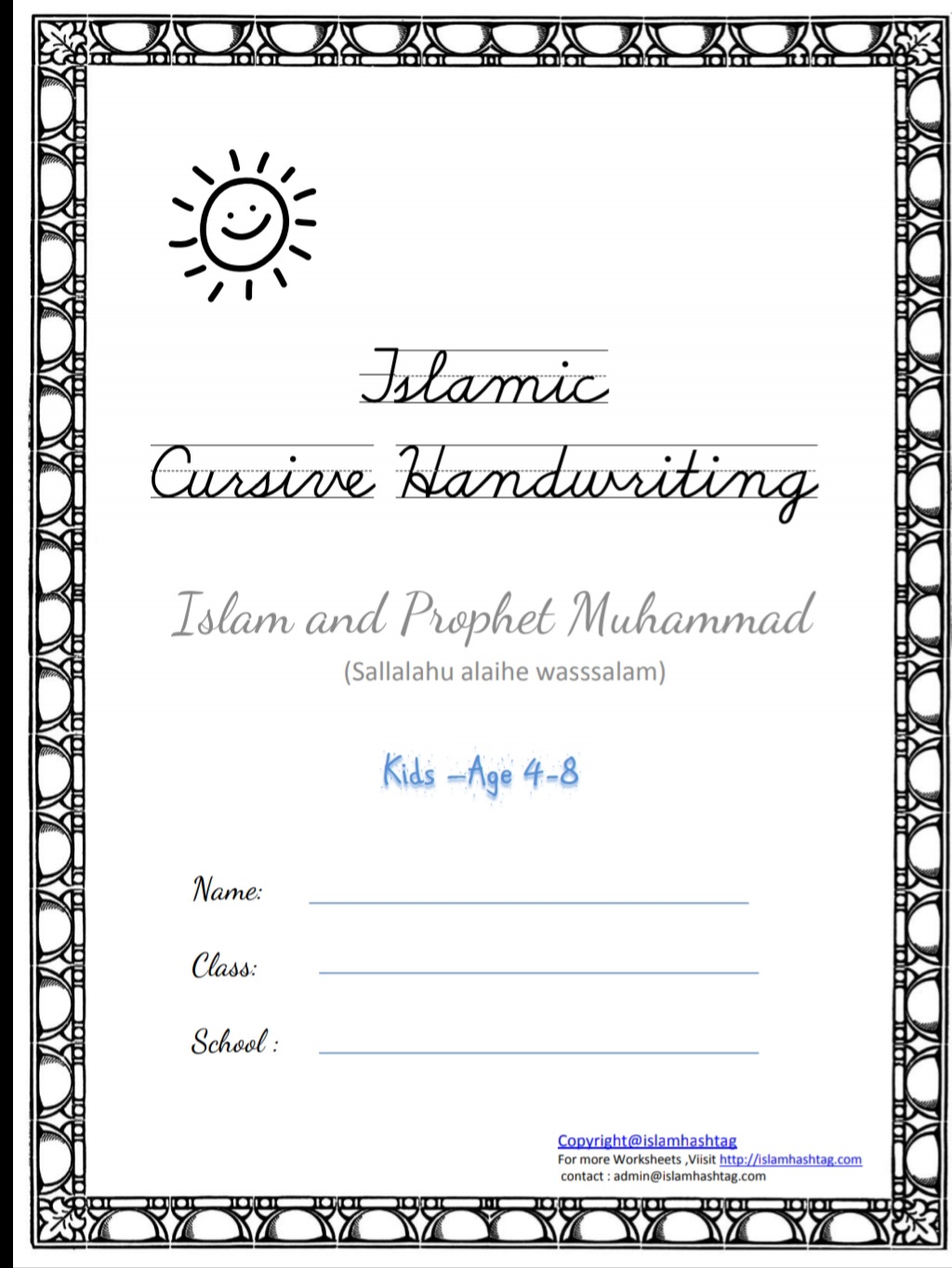 Keep in Duas.
If you find it useful,Consider sharing it with People who may benefit.
Also check Islamic Worksheets , Islamic Trivia Quizzes, Short Islamic Stories and lesson from Quran
With regards,
Aafiya.
If you like this consider sharing it. Your single share means a lots to us.Republishing the article is permitted on the condition of proper attributes and link.
Do you want to get a Weekly magazine? You can subscribe to get a weekly email with our recent articles.
Follow us in our Social media Profiles: (facebook @islamhashtag), (instagram @islamhashtag ) and (pinterest @islamhashtag )