What is Halal Whey Protein and Which are the Halal Whey Protein brands ?
What is Halal whey protien?
Whey powder is a popular ingredient in many food products and supplements. It is a byproduct of cheese production and is obtained from the liquid left after milk coagulates. Whey powder is used as a protein supplement in sports nutrition, weight management, and bodybuilding. It is also used as an ingredient in baked goods, infant formula, and other food products.
Whey is great for managing weight and a viable meal replacement option. The energy it provides will sustain and fuel your day, by supplementing your diet with shakes you'll remain satisfied and be less likely to go rooting through your cabinets for snacks. In addition to losing weight drinking whey protein before and after workouts can improve muscle protein synthesis.
Halal certification of Whey Protein
To obtain Halal certification, manufacturers of whey powder must comply with strict guidelines and regulations set by Islamic authorities. These guidelines cover every aspect of production, from sourcing ingredients to packaging the final product.
During the manufacturing process, the use of animal-derived enzymes, such as rennet, is strictly prohibited. Instead, microbial or plant-based enzymes are used to separate whey protein from milk. Additionally, any alcohol-based solvents used in the production process must be removed completely before the final product is packaged.
It's important to note that not all whey powders are Halal certified. Therefore, it's crucial for Muslims to check the label and verify the Halal certification before purchasing and consuming any whey powder products.
What are the benefits of Halal Whey Protein
You may have heard about the  benefits of Whey protein powder in weight loss regimens. But what exactly is whey protein? Whey protein is separated from milk during the process of cheese making and is a mixture of proteins, lactose and minerals naturally found in milk. It has a higher level of protein digestibility than other proteins, such as casein. The major proteins found in it include lactoglobulin and alpha-lactalbumin.
Benefit of using Whey Protein powder
Since exercise can take a toll on the immune system, Whey protein powder are the nutritional protein shake of choice for those who lead and active lifestyle.Whey Protein supports muscle maintenance, buildup and toning for anyone form weekend warriors to hardcore bodybuilders.It is recommended to Consume whey protein powder within 30 minutes of exercise to help repair and rebuild muscles.
Furthermore, it provides wholesome support for compromised or wasting muscle due to the aging process.
Whey is used in foods such as ice cream, bread, canned soup, infant formulas and many other food products.
If Whey is a Milk Ingredient, How can it be haram?
But You also need know that not all whey are halal. Whey is actually a by-product of cheese which may or may not be halal because of the use of rennet in cheese making.Muslims think that if whey is a milk based ingredient then it has to be Halal, but this is not true.
What is the difference between Halal and Non halal whey protein?
There are two kinds of whey, one is sweet or rennet whey and the other is acid whey. Acid whey is obtained during the making of acid type cheese such as cottage cheese. Sweet or rennet whey is used more in food products then acid whey. Sweet whey or rennet whey is a by-product of rennet cheese  such as cheddar cheese or Mozzarella cheese. Whey is a portion of milk remaining after coagulation and removal of curd.
Whey is Halal only if the Halal starter culture bacteria, Halal medium on which starter culture bacteria are grown (Starter culture bacteria are Halal if they are obtained from milk source not meat source, and media on which these starter culture bacteria are grown. These requirements can only obtained if the cheese and whey are Halal or Kosher certified (which meet the Islamic dietary requirements). A Halal or Kosher symbol (which meet the Islamic dietary requirements) appears on a food package containing whey indicating that it is manufactured under Halal or Kosher supervision. MCG considers Lactose Halal only if it is Halal or Kosher certified.
Whey is haram if prepared with enzymes from pigs,or calf which has not been slaughtered Islamically. Or It may contain potentially questionable ingredient that can make it haram.
A simplified list of non-halal ingredients in Protein Supplements:
Cholic Acid
Maltitol
L-Cystine
L-Cysteine
Lanoline
Lac, Shellac
Edible bone phospate
Gelatin
Cochineal Extract
Carmine
Please note that  certain Synthetic produced ingredients such as  L-cysteine, are available which are compliant with  kosher and halal laws .
Types of Whey Protein
Whey Protein is recognized as the most powerful source of protein for muscle building, the most common types being
First is Whey Protein Isolate and
Second is Whey protein concentrate.
Of these two types Whey Protein Isolate is the purest form having 92 % of protein by weight as compared to whey protein concentrate which has only 78% Protein by weight and contains more lactose, fat and cholesterol than Isolate. After isolating protein from whey concentrate after removing fat, lactose and cholesterol, the protein called as Whey Protein Isolate.
How to Choose the Best Halal Whey Protein
When it comes to choosing the best halal whey protein, there are a few factors to consider. First and foremost, you want to make sure that the product is certified halal by a reputable organization. Look for certifications from organizations such as IFANCA, Halal Certification Services, or Islamic Services of America.
Next, consider the source of the whey protein. Is it derived from grass-fed cows? Grass-fed cows produce milk that is higher in nutrients such as omega-3 fatty acids and conjugated linoleic acid (CLA). Additionally, look for whey protein that is free from hormones, antibiotics, and artificial ingredients.
Another important factor to consider is the type of whey protein. There are three main types: concentrate, isolate, and hydrolysate. Concentrate is the least processed and contains some fat and lactose. Isolate is more processed and has a higher protein content with less fat and lactose. Hydrolysate is the most processed and is pre-digested for easier absorption.
Lastly, consider the flavor and texture of the whey protein. Some brands offer a variety of flavors, while others may have a chalky or gritty texture. Read reviews from other customers to get an idea of the taste and texture before making a purchase.
By considering these factors, you can choose the best halal whey protein that fits your dietary needs and preferences.
Tips on buying Halal Whey Protein
IMP: Tweet or message and ask the brand mentioning your exact flavour and brand to make sure what you are buying is halal as we noted that some flavour are halal while some flavour are not.
Please note that Optimum Nutrition these days may not coming with the halal logo as it used to be years ago but this is the only brand we see being used in Shops around Saudi Arab. This the available flavour they have mentioned-Double Rich chocolate Flavour . If you want to double check if the When protein you are buying is halal, you can tweet and ask them mentioning your exact flavour and brand.
Non Halal Certified brand which you can use with caution are Kosher or vegetarian. If the Whey is Organic USDA Certified then there's no alcohol involved in the fabrication process as chemicals are not allowed in order to be considered organic.
1. Ultimate Nutrition ProStar Halal Whey Protein, Pure Natural Flavor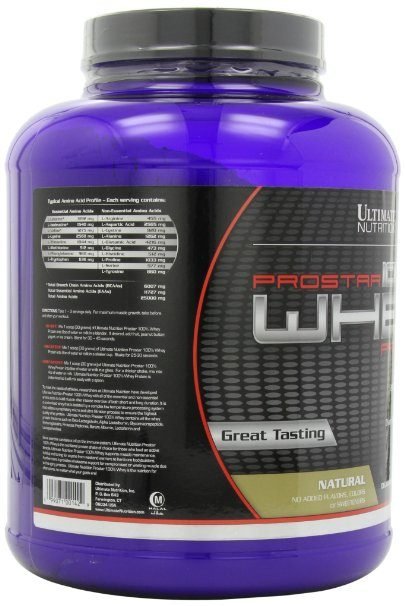 To meet the needs of athletes, Ultimate Nutrition have developed Ultimate Nutrition Prostar 100% Whey with all of the essential and non-essential amino acids to build muscle after intense exercise of both short and long duration. It is a customized whey that is isolated by a complex low temperature processing system that utilizes a proprietary micro and ultra filtration process to ensure the highest quality whey protein. Ultimate Nutrition Prostar 100% Whey contains all the whey protein fractions such as Beta Lactoglobulin, Alpha Lactalbumin, Glycomacropeptide, Immunoglobulins, Proteose Peptones, Serum Albumin, Lactoferrin and Lactoperoxidase.
Some details about this Halal Whey Protein :
One 80-ounce tub of natural-flavored whey protein supplement

With naturally occurring amino acids from premium whey protein

For maintaining and increasing lean muscle mass

Mixes instantly; may also be used in pancakes, waffles and muffins

Contains Soy Lecithin

You get more Whey per serving with Ultimate Nutrition ProStar Whey Protein. Contains only naturally occurring amino acids from 100-percent premium whey protein. Contains no wheat, or casein. Ultimate Nutrition's ProStar Whey includes all the whey protein fractions such as Beta Lactoglobulin, Alpha Lactalbumin, Glycomacropeptide, Immunoglobulins, Protease Peptones, Serum Albumin, Lactoferrin, and Lactoperoxidase. ProStar Whey is isolated by a complex low temperature processing system that utilizes a proprietary micro and ultrafiltration process for the highest quality whey protein available. Ultimate Nutrition incorporates the highest quality standards in sourcing raw materials, manufacturing, and packaging to ensure you receive the finest supplements available.
You can get this Product: Here
NoorVitamins Pure Whey Protein Powder, Chocolate Flavor – Preservative, GMO & Gluten Free
Rich chocolate flavor pure Whey Protein Powder. Infused with organic superfoods (apple, kale broccoli, spinach, carrot, parsley, beet, greens, cabbage, blueberry, raspberry, strawberry, and tomato) and enriched with natural vitamins maximum nutrition. GMO, Soy, Gelatin and Gluten Free. No Preservatives or added sugars.
This is halal certified. see it in Amazon (if unavailable you may check their website)
2. Orgain Grass Fed Clean Whey Protein Powder, Vanilla Bean – Low Net Carbs, Gluten Free, Soy Free, No Sugar Added, Kosher, Non-GMO, 1.82 Pound (Kosher)
USDA organic, vegan, gluten free, dairy free, lactose free, low net carbs, no added sugar, soy free, kosher, non GMO, carrageenan free, and no artificial ingredients
Ideal for healthy, on the go nutrition for men, women, and kids. These are great for meal replacement, smoothie boosters, buildin grams lean muscle, muscle recovery, and pre or post workouts
3. Garden Of Life Sport Organic Plant-Based Protein – BCAA Amino Acid Protein Powder, Chocolate 29.6oz (Kosher)
Garden of Life SPORT Organic Plant-Based Protein is tested and labeled as Certified USDA Organic, Non-GMO Project Verified, Certified Vegan, NSF Certified Gluten Free, Certified Kosher, Dairy Free and Soy Free, as well as Certified for Sport by both NSF and Informed-Choice.
4. EAS 100% Whey Protein Powder, Vanilla, 5lb Tub
One serving  of this Whey Protien provides you with 26 grams of high quality protein and 6.3 grams of naturally occurring branched chain amino acids to aid in muscle recovery.It has no added sugars, fillers or blends. EAS Whey Protien is a great product of Quality,with no filler protein for committed athletes who want to push their Performance.
It is available in three different flavours :Chocolate, Vanilla, Strawberry.
It is recommended to Consume within 30 minutes of exercise to help repair and rebuild muscles
Price $38.42
You can get this Product: Here
5.Isagenix Isapro Whey Protein Chocolate Canister

Isa Pro is made from the best quality proteins and works very well for building lean muscle, it should be used directly after working out.It Mixes extremely well and you can add it to any food, to add protein. The best protein, no artificial products, no Gmo, no soy, no sucralose, no aspartame etc.
It is available in Chocolate and Vanilla flavor.
Price :$44.69
You can get this Product: Here
6. Lactose Free Whey Protein
It is 100 % Bio Pure Whey Protein Isolate isolated from Whey Protein concentrate by using patented ultra-microfiltration process which preserves Natural Profile of Amino Acid unlike other whey protein isolates that denature the Protein profile by using Ion Exchange method or others. It is free from Protein Spiking or Amino Acid Spiking. (Read here to Know what it is ) and has the highest biopurity Profile gives 90% of protein per scoop (25/27.7g) and maximum amount (5.6 GM) of BCCAs and (4.8 GM) of Glutamines per serving size They claim to have all 26 Full Spectrum Amino Acid Profiles including essential, semi essential and non-essential Amino Acids with 159 Biological Value and Perfect 1.0 PDCAAs Score.
Lactose Free Whey Protien has pretty good reviews and Priced only at $32
See more details and buying Options HERE
7. NaturesTwig All Natural Vanilla Whey Protein 1 LB
It is a Delicious tasting Whey protein concentrate and has 4 grams sugar & carbs ,20 gram protein and  4.5 gram BCAA .It is Kosher  certified .
1 lb costs $19.19
You can get it here
8. BiPro 100% Whey Protein Isolate
14 Single Serve Packets great for travel .This powder bears the seal "NSF," indicating that it has been certified by a third-party lab that evaluates vitamins and supplements to determine their contents. Here is the link to get The Packet contents and this is where you can get a bottle    
9. Zahlers Reach, Whey Protein Powder
All Zahler products are Kosher Certified .They are sourched directly from nature containing only pure, unadulterated ingredients. Manufactured and bottled in a state of the art GMP certified facility. Zahler's Whey Protein meets the highest nutraceutical standards .
Zahler's line of whey protein shakes is certifiably delicious. With 5 indulging flavors including chocolate, Cookies & Cream, Cappuccino, Vanilla, and Strawberry. Everyone can enjoy the many health benefits of whey protein.You can Get it here .
10. Insane Labz Insane Whey,100% Muscle Building Whey Isolate Protein
This used to be Halal certified and was available in amazon. But these days its not available.
Note – this article is updated from an article originally published in 2016
If You like to read about more about Halal Supplements which includes Halal Supplements for Men,Women,Kids, Halal Omega 3 ,Halal Vit D3 , and Halal Prenatal Vitamins,Continue reading here >>> List of Halal Vitamins
Happy bodybuilding !
Related Read :
Get a Burqini! The Modest Bikini
Sports Hijab for better Coverage and Comfort
Hope You benefit from the Articles.If You like the Articles,Share!
If you like this consider sharing it. Your single share means a lots to us.Republishing the article is permitted on the condition of proper attributes and link.
Do you want to get a Weekly magazine? You can subscribe to get a weekly email with our recent articles.
Follow us in our Social media Profiles: (facebook @islamhashtag), (instagram @islamhashtag ) and (pinterest @islamhashtag )