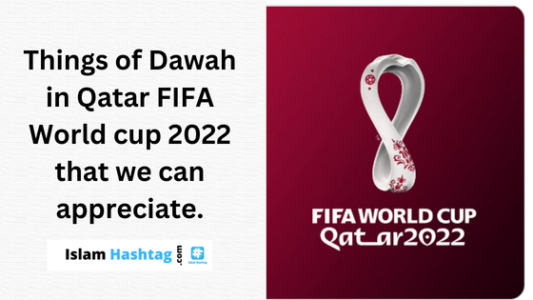 Dawah in Qatar FIFA World cup 2022
Islam is a beautiful religion and Muslims are the best people in terms of manners. In recent days, due to Islamophobia,the world had been seeing Muslim with a negative lens. Islam had always been misinterpreted. Qatar had taken the chance to host the World cup and show the World what Islam is and how beautiful are the teachings of Islam.
Over 1 million people will b travelling to Qatar from across the world to watch the world cup.For the first time many of them will b exposed to Islam.
What is Dawah?
Dawah is not forcible conversion. Dawah is just exposing to people to the commands of Allah. Allah has created us for the sole purpose to worship him and he has given us the rule of conduct on how he expects us to spend this life on Earth to be chosen for the everlasting bliss of Jannah. This life is a test. Prophet Muhammad Sallalahu alaihe wa sallam is our role model who was a mercy to us because he taught us how are we expected to be in order to be acceptable in the court of Allah.
The whole life of Muslim is a dawah. If you look at a Muslim who is obedient to the command of Allah, you will see in him compassion towards fellow being, compassion towards animals, towards neighbours and their helpful attitude. They greet each other with the greeting of Peace, "Salam". They enjoy doing goods to others and they bow down to their creator 5 times a day. They thank Allah for all the blessings and the book they recite-"Quran" is not any book. It is the wook which is a direct speech of Allah and Allah talks to the reader directly. Allah has taken the responsibility to preserve it so it is one of the most memorised book and the most read book. There is not a single change in Quran since 1400 years.
What Qatar is doing is just showing the beauty of Islam. It is not trying to force anything on anyone.
FIFA World Cup Qatar 2022 opening ceremony was held at Al Bayt Stadium in Al Khor, Qatar, where African American movie star Morgan Freeman was among the guests, with Korean K-pop star Jungkook performing a mini-concert.
The BBC relegated the ceremony to the "Red Button" service and online, however, BBC One decided not to air the ceremony live but rather mentioned human rights and alleged accusations against Qatar.
"It's the most controversial World Cup in history and a ball hasn't even been kicked," said Lineker, a former England football captain who was among the hosts during the broadcaster's World Cup programme.
Dawah in Qatar FIFA World cup
Dr Zakir Naik is also in Qatar. Many other scholars have also been invited.
Praying place of glass
A World Cup fan writes:
"One of the beauties of the World Cup in Qatar is that they made the praying place of glass on all sides, so non-Muslims can see the prayer. Today, while I was at Al-Bayt Stadium, I went to pray isha, and after I left, I found a foreigner standing watching. He called out to me and told me:
– How many times a day do you do this?
– So I told him five imposed, and in addition, the increase in wages
– Ok, when are the prayer times?
– No, they are not fixed times on the hour, but according to the movement of the sun
– How ?
– I opened the application for prayer times and showed him that every few days the hour varies, and I started explaining to him each prayer when its time, and he was amazed and surprised. "I'm sorry, can I open the camera and you repeat all what you said again?"
NO Alcohol
According to a local activist, 558 People had already converted to Islam even before the World cup started.
Qatar took its stand against LGBT
Hearing the beautiful adhan five times a day will be a dawah in itself.No doubt the words of Quran melts the hearts.
Dawah in Qatar FIFA World cup by Locals
Hijab trial -Dawah in Qatar FIFA World cup
This post shall be updated. Kindly check back for more News.
If you like the article consider sharing it. Your single share means a lots to us.Republishing the article is permitted on the condition of proper attributes and link.
Do you want to get a Weekly magazine? You can subscribe to get a weekly email with our recent articles.
Follow us in our Social media Profiles: (facebook @islamhashtag), (instagram @islamhashtag ) and (pinterest @islamhashtag )