Assalamu alaikum wrwb,
How are you all ? Apologies for stopping the Weekly Newsletter .I have been busy with some exams and with some deep research on topics that I wish to include this year . I was away but your love and support was always there with me. It is because of the support you show us by liking, commenting and sharing that helps us reach more number of People . So even if you are a silent reader of our blog consider sharing the article that made an impact on you with at least one person you know .
2018 was great alhumdulillah ! I am so humbled to see your love for this website . While I was looking at some of the comments and email , I realized that there are some People who really look forward to read our articles . Jazak Allah Khair.
I would also like to thank our Non Muslim friends who read our articles on a regular basis . Last year we published more than 100 articles and our articles reached millions of People through our blog posts and Social media . Last year we also got someone who took off our burden of paying the hosting charge of running this Website . Thank You Allah ! Alhumdulillah !for all the favours.
Last month I was talking to some revert sisters . I was deeply moved to hear their struggle of  finding the correct source of information . As a born Muslim we know our fundamentals , we know our aqeedah  . But the Reverts who are new to Islam struggle each day  . They get burdened with the information overload conflicting in themself . They don't have friends to discuss and they don't know what is right .Internet is definitely misleading . I will tell you why ? Type any topic in You tube  and pick any 5 lecture . Five Lectures on the same topic will tell you 5 different things . We have some articles for New Muslims . In sha Allah , I hope to write more articles for our Revert brothers and sister with the main focus on how to survive as  a new revert in this Islamophobic World.
Next Focus shall be Islamic Parenting In sha Allah . One of my friend told me that she received a consent letter from School of her daughter about the relationship and sexual education Program .When she saw the course book,her heart wrenched with grief with what they were doing with the kids.  The RSE program runs in Ireland and other Europe countries . She said that in few years these types of courses will intoxicate the young mind without our realizing it  . She said that she found in a picture two men with a child .One was Mother and the Other Father . It is Very important that we take a  note of what our Children are learning and we should make an effort to parent them according to Sunnah.
Islamic parenting has become the dire need of the society .If We don't give time to our Kids and if we don't teach the Islamic morals,the sin will definitely fall on us  . Many of my friends from Canada , Italy and Ireland wrote to me about their concern . I made this Blessing of Allah/Surah Rahman  Worksheet . Alhumdulillah it helped them a lot .One of them Wrote back to me that her daughter has began to connect the Verses and command of Allah swt with the things she sees  and that she is happy with the change . This motivates me to make more such worksheets for the Kids  and will In sha allah share more practical Islamic Parenting tips that I learn from my teachers and from my own research .
Our Quranic Reflection will continue and we will bring more Stories and Quizzes In sha Allah . Those who read the Hajj Magazine will In sha allah get updated about the events in Mecca and he holy Places .
This Year we will In sha Allah post more beneficial Videos and Recommendations of Islamic Books .We also wish to do more articles on Sahaba (RA) and Islamic History .In sha Allah!
Few days back ,I did a survey  with you all in Facebook on what topic interests you . If you haven't yet participated in it ,You can still give your suggestions or write to me at admin@islamhashtag.com ( if you want to be anonymous) .
Subhan Allah ! it motivates  me to know that many Non Muslim brothers and sisters are reading our articles on daily basis . If you are a Non Muslim and you don't want to disclose your identity but you have a request ,you can freely write to me .
Last year We also added  an Advertising option to Islam Hashtag .We understand that there are many Muslim businesses struggling to get an exposure . Alhumdulillah Islam Hashtag has nearly 1 Lakh visitors per month . If you are an Islamic  business we would love to support you . See our advertising Option here.
Last year we were able to donate many English translation of Quran alhumdulillah . In sha Allah , We hope to continue our Quran Donation Project . Jazak Allah Khair to the members who donate to keep this site running and Jazak Allah Khair to  all of you for  your love and Support.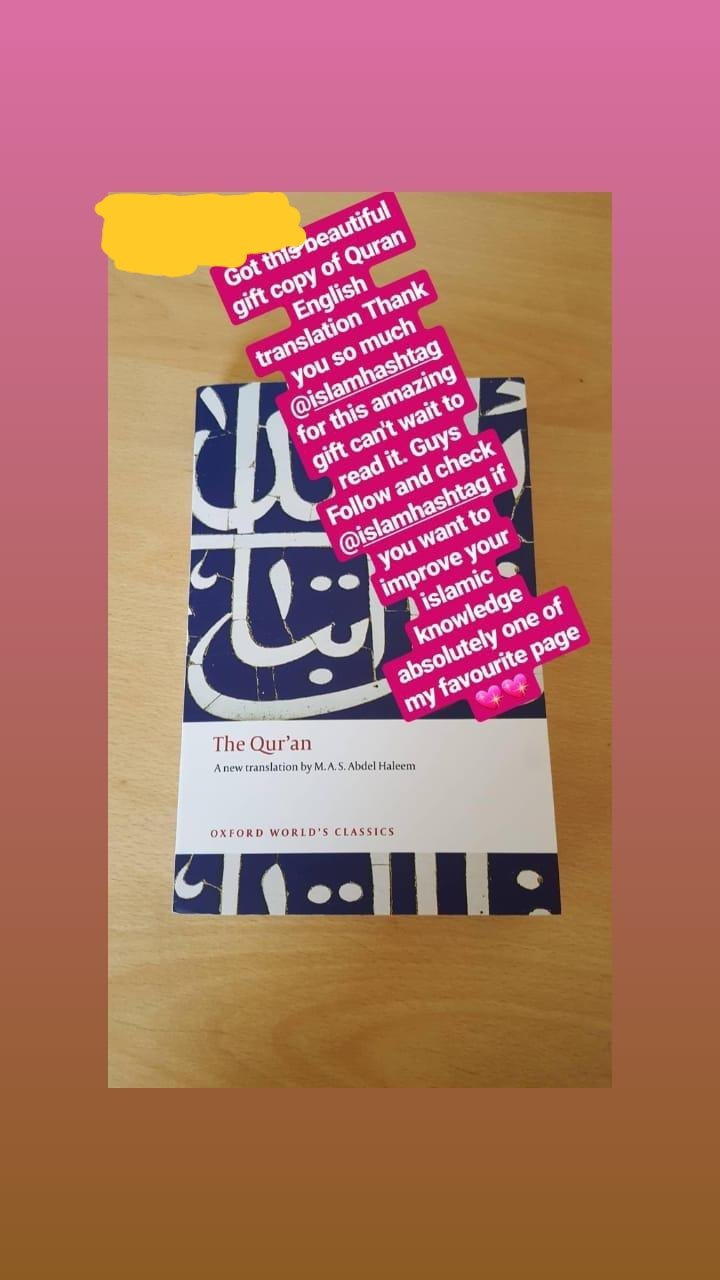 Do tell us how can we improve to serve you better . In sha Allah we will strive to work harder .
If you like this consider sharing it. Your single share means a lots to us.Republishing the article is permitted on the condition of proper attributes and link.
Do you want to get a Weekly magazine? You can subscribe to get a weekly email with our recent articles.
Follow us in our Social media Profiles: (facebook @islamhashtag), (instagram @islamhashtag ) and (pinterest @islamhashtag )