Multi-story Hajj tents in Mina
For the first time in the history of the Kingdom, multi-story Hajj tents will be established during this year's Haj season to provide more space to the pilgrims, according to the Tuwafa establishment for pilgrims from Arab countries.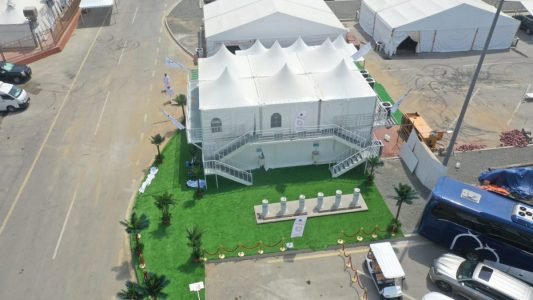 Chairman of the establishment, Abbas Qattan said the idea will solve the problem of narrow areas in Mina by increasing the accommodation capacity of the tents.
"This is within the Kingdom's efforts to upgrade the services being extended to the pilgrims and is also within the efforts to achieve the goals and objectives of the 2030 Vision aimed at increasing the accommodation capacity for the Guests of Allah," he said.
The chairman said the project will exploit the vertical height of Mina and added that the ground floor will be used for accommodation of workers and for storing food supplies while the upper stories will be used for accommodation of pilgrims.
"This experiment will provide extra accommodation places for eight pilgrims in each tent," he explained.
Qattan said the project was studied with the Authority for the Development of Makkah and was supported by the Ministry of Haj and Umrah and the Civil Defense.
"The tents will be fire-resistant and can easily be wrapped up and reconstructed," he added.
The chairman, however, stressed that the vertical development of Mina would require strong basic infrastructure including tunnels, logistical support and good delivery system.
Read more :
Ref :News and Social Media.
If you like the article consider sharing it. Your single share means a lots to us.Republishing the article is permitted on the condition of proper attributes and link.
Do you want to get a Weekly magazine? You can subscribe to get a weekly email with our recent articles.
Follow us in our Social media Profiles: (facebook @islamhashtag), (instagram @islamhashtag ) and (pinterest @islamhashtag )