The New Confessions of an Economic Hit Man
Political Good Read
The Book Recommendation for this Week is not a Religious Book but It is a  Book Recommended by Sheikh yasir qadhi to someone who wants to understand the Politics of America and its role in giving rise to Terrorism.
About this Book :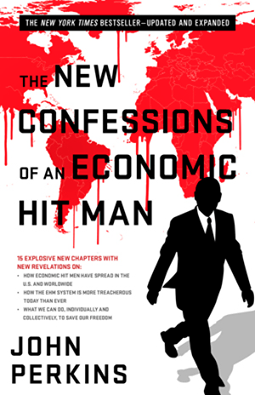 "Mr. Perkins's core message is that American corporations and government agencies employ two types of operatives: 'economic hit men,' who bribe emerging economies, and 'jackals,' who may be used to overthrow or even murder heads of state in Latin America and the Middle East to serve the greater cause of American empire. . . . [This} book seems to have tapped into a larger vein of discontent and mistrust that Americans feel toward the ties that bind together corporations, large lending institutions and the government — a nexus that Mr. Perkins and others call the 'corporatocracy.'"
—The New York Times
The original version of this astonishing tell-all book spent 73 weeks on the New York Times bestseller list, has sold more than 1.25 million copies, and has been translated into 32 languages.
About the Author, The New Confessions of an Economic Hit Man
John Perkins advises corporations, executives, and entrepreneurs on ways to make the transition from a Death Economy (exploiting resources that are declining at accelerating rates) to a Life Economy (cleaning up pollution, recycling, and other technologies that create life-styles millennials want to inherit).
A former Chief Economist at an international consulting firm and CEO of a successful alternative energy company, he is best known for his "Confessions of an Economic Hit Man" (NY TIMES bestseller for 70 weeks, published in over 30 languages). His "The New Confessions of an Economic Hit Man" (Feb 2016) delves deep into global systemic problems and describes what we can do – individually and collectively – to correct them. He has also written many books on Indigenous cultures, including "Shapeshifting" and "The World Is As You Dream It."
In this Book :
Sheikh Yasir Qadhi was so much Influenced with this book that he left a Review in his facebook page . I admire Sheikh Yasir Qadhi and will definitely take his suggestion.Naturally, This Book is in my next to read Book list.Let us See what this book is all about-
In the Book,'Confessions of an Economic Hit Man', John Perkin describes his personal experiences in the shadowy underworld of American corporations and their dealings with Third World countries on behalf of the government. He mentions how it was his job to cheat poor countries out of billions of dollars, and to transfer wealth from oil-rich countries (like Saudi Arabia) to America, using underhand tactics and false promises. The book demonstrates the strong ties the government has with the largest corporations in America, and argues that, essentially, they are working together to maximize profits for those companies, at the expense of billions of people's suffering around the world. He calls this cooperation a 'corporatocracy'.
The last paragraph of the book sums it all up for us.
"These are the times that try men's souls. We will be faced with increasing acts of desperation by those who feel cheated and oppressed by the corporatocracy. Whether terrorism occurs in Manhattan, Madrid, London, Riyadh or La Paz, it is essential that we understand that in the long-term these horrible acts will not be stopped by the military, or by security guards in airports and along our borders. They will only be stopped when enough of us demand that our corporations, banks, and governments cease to exploit the majority of the world's population and resources, and when we insist on dealing with the world from a place of compassion."
So, basically, he's saying that terrorism is inevitable if unjustified reaction to the greedy policies of American corporations backed by the power, and policies, of the government continues.
It has a great response from Reviewers all over the World and is already a Best Seller.
If you like this consider sharing it. Your single share means a lots to us.Republishing the article is permitted on the condition of proper attributes and link.
Do you want to get a Weekly magazine? You can subscribe to get a weekly email with our recent articles.
Follow us in our Social media Profiles: (facebook @islamhashtag), (instagram @islamhashtag ) and (pinterest @islamhashtag )